Acroprint ARESIV Watchman Clock System



ARES-IV PC Based Watchman System... features Powerful Reporting to Analyze and Audit your watchman's patrol rounds
Ensure the protection of your property and facility!!!


Easy as 1-2-3...
1. Guard touches his/her Guard ID i-Button, to "Start Shift".
2. Guard Touches "Numbered Station i-Button(s)" at each check point.
The above action Records... Station i-Button number, Guard ID i-Button number, Data Recorder number, Date, Hour and Minute for each checkpoint.
3. Data is then Downloaded to ARESIV Software on the computer...via the included Docking Cradle.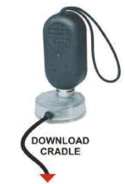 ---
ARESIV Watchman Kit includes...(1) ARESIV M6000 Data Recorder with strap, (1) ARES-IV Watchman Clock Software with electronic manual on CD, (10) Station i-Button(s) with plastic mounts, (2) Guard ID i-Button key fobs, (1) Docking Cradle Cable.

Companion Products: See "Related Products Heading" at the Bottom of this Page. Choose from...Additional M6000 Data Recorders, i-Button Checkpoint Stations, Guard ID Key Fobs, and Incident Pad, Etc.
---
M6000 Data Recorder
"9 volt" Cell battery provides Months of maintenance free use for the M6000 Data Recorder...maintains Date, Time and recorded data.
M6000 Data Recorder stores approx. 2500 transactions
Lightweight and Easy to Carry
Rugged Design for most possible mishandling
Key Lock required to open Data Recorder
Low Battery indicator beep
M6000 Data Recorder Specifications:
Weight: 1lbs.(data recorder)
Dimensions: 6.3"(w)x 8"(h)x 5"(d)
ARESIV Software is password protected
Many Reports available...Tour Report, i-Button Station List, etc.
User defined descriptions fields for, i-Button Station Names, Guard Names, Areas, etc.
Assign i-Buttons to designated "Facility Areas" for patrol
Specify allotted time, in which i-Button stations are to be visited per "Area"
Archive/Save History Data to external drive

OPTIONS:
Add, Station i-Buttons (packs of 10)
Add, Guard ID i-Buttons (packs of 5)
Optional Incident Pad...codes to track; Glass Broken, Door Ajar, etc.
Add, M-6000 Guard Clock Data Recorder(s)